Smart interior fingerprint lock 5A F220
Realizing the risks and shortcomings from the cumbersome & poor security of traditional machine keywords, it is easy for a fraudster to break into and destroy the 'stolen' property that the owner cannot control. 5A SYSTEMS of America has launched the 5A F220 drawer fingerprint lock series to solve those unwanted annoyances.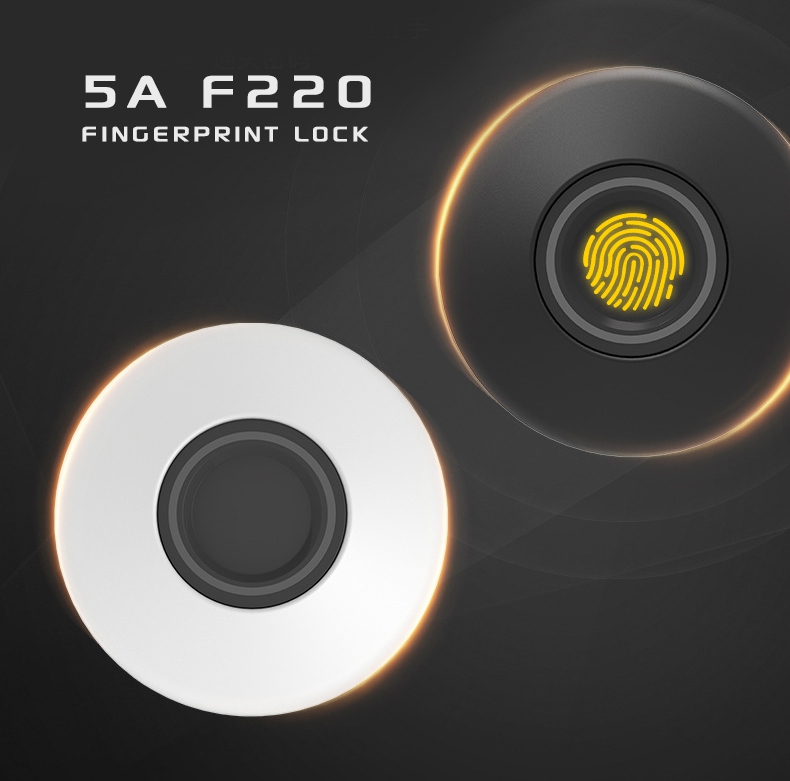 5A F220 drawer fingerprint lock - a generation of classy fingerprint lock in the digital age. Using America's super-sensitive one-touch fingerprint recognition technology, users experience a super-fast unlocking speed, less than 0.1 seconds, and achieve absolute accuracy.
Specialized fingerprint lock for drawer 5A F220 has a beautiful, round design that can easily replace the old lock, it doesn't take much time, no chisels, and no effort.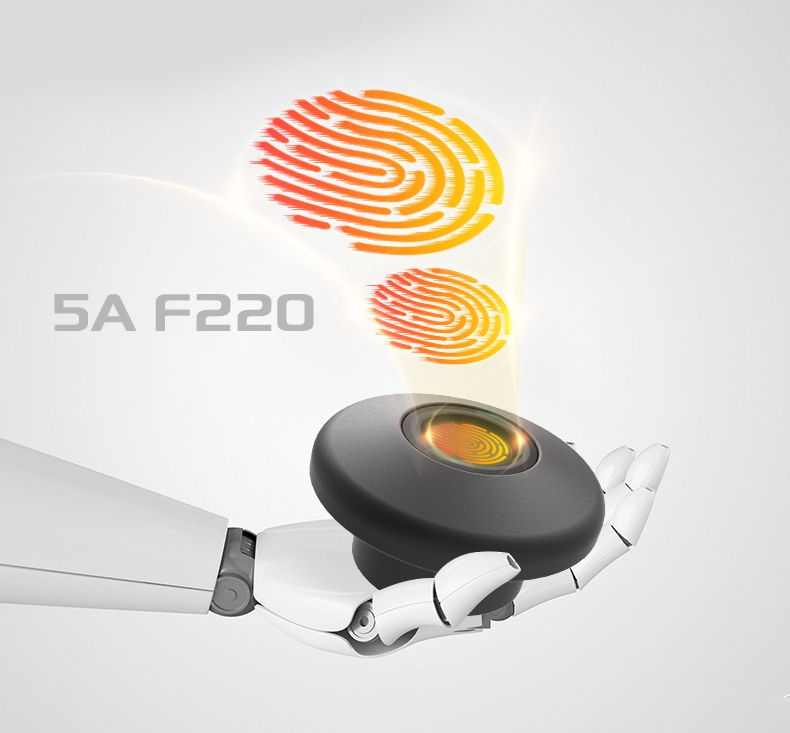 FEATURE:
1. Access control: fingerprint - USB Key
2. Advanced American Biometric technology, allowing extremely sensitive response speed.
3. Add up to 20 fingerprints
4. Motorized automatic mechanism
5. Large indicator light with visual cues
6. Operates with 3 AAA alkaline batteries, battery life up to 1 year.
** Smart alarm function:
- The lock will turn on theft alarm, through the system of lights and alarms if you deliberately pry open the door, enter the wrong fingerprint.
- When the locker is not closed or closed tightly, the locker fingerprint locker 5A F220 will turn on the notification by bell, thereby ensuring that the property is always protected.
Low battery warning: Six beeps after opening indicates low battery, please replace the battery immediately. If the battery does not open the door, enter an external power source using the USB port to Unlock.
USER MANUAL:
Step 1: Select the Operation Mode
Press reset button for 4 seconds, four beeps, then continue to hold → Modes changed, all fingerprints will be erased
Note:
* Auto mode: Latch lasts for 4 seconds after opening
* Manual mode: Latches inside the box after opening
* Auto mode and manual mode change respectively, auto mode at factory setting two beeps, release
Step 2: Register a new fingerprint
→ Press the reset button and then release it, 1 beep, the green light lights up → Place your finger on the reader, 1 beep and then quit; same operation for six times - The light turns green with two beeps, fingerprint is registered. If there is an error, the indicator is red with three beeps. Retry.
Note:
* Do the same to add more fingerprints. 5A F220 drawer fingerprint locker allows registration of 20 fingerprints, if more than 20 fingerprints, the system will log out. If new fingerprints are required, all fingerprints must be deleted first.
* Any finger can be unlocked before registration, ensure fingerprint registration before use.
* Make sure the lock works well, it's better to add at least 3 different fingerprints to register.
Step 3: Delete all fingerprints
- Press the reset (reset) button for 4 seconds, four beeps, then delete all fingerprints.
Note: * To ensure the lock is secure, all fingerprints should be removed before using
Step 4: Lock and unlock
* Automatic mode
- Place any registered finger on the reader then "#" Light turns green with two beeps, unlock.
- Push door closed and automatic door lock
* Manual mode
- Push the door closed and press "#", the latch pops out and closes the door.
- Place any registered finger on the reader with 2 beeps, unlock the door and pull the door open.