Smart high quality drawer chest fingerprint lock 5A F300
Fingerprint lock 5A F300 specialized for drawer chest is compact, aesthetic, convenient, easy to install and highly secure. The companion protects property, personal belongings, private items or important documents from the home space to the work drawer chest.
Salient features:
* Access control: fingerprint - USB Key.
1. No more worries about losing keys, missing keys, fingers becoming smart keys
2. American advanced biometric technology, super-fast, super-sensitive detection speed, one-touch unlock, 100% accuracy rate
3. Add up to 20 fingerprints
** Open and close continuously more than 1000 times
** Super durable battery, battery life up to 1 year, USB charging port connection.
Outstanding advantages:
Families with young children, curious & active; Young children will often rummage through drawers. 5A F300 drawer fingerprint locker is the perfect choice for you, helping you to isolate your kids from dangerous objects, such as cigarettes, sharp objects, scissors...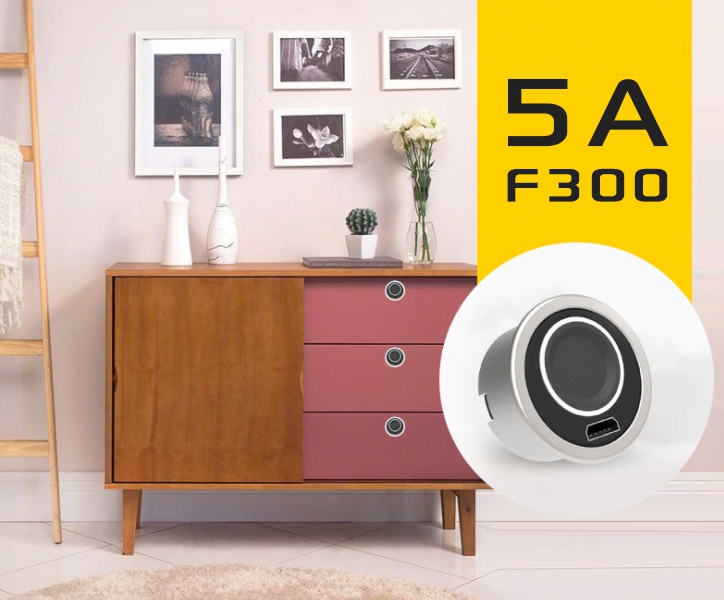 Round design, compact, easy to install and lock, does not destroy the interior, still retains the aesthetics.
Super durable alloy material, anti-rust, anti-fouling, anti-scratch, makes the interior more luxurious, keeps the beauty for a long time, always new.
The locking blade part has a compact, flexible design, undergoes multi-layer chromium plating process, has good resistance to wear and corrosion despite being used for a long time.
** Low battery warning: Six beeps after opening indicates low battery, please replace batteries immediately. If the battery does not open the door, enter an external power source using the USB port to Unlock.
5A F300 drawer chest fingerprint locker is suitable for all kinds of lockers, cabinets, drawers, wardrobes, office cabinets, document cabinets, ... Widely used for schools, swimming pools, rooms sauna, office, home, etc.
User manual:
Step 1: Select the Operation Mode
- Press the reset button for 4 seconds, four beeps, then hold two beeps, release
** Note: Mode has changed, all fingerprints are deleted and passwords remain unchanged.
* Auto mode: Latch lasts for 4 seconds after opening
*Manual mode: The latch will not open until "#" is pressed
* Auto mode and manual mode change respectively, automatic mode in factory setting
Step 2: Register a new fingerprint
Press the (reset) button to reset and then release, 1 beep → Place your finger on the reader, 1 beep then remove, the green light turns on; Works the same for the light to turn green with two beeps, the fingerprint is registered.
- If there is a mistake, the indicator is red with three beeps. Retry.
Note:
* Do the same to add more fingerprints. F300 5A F300 drawer fingerprint lock allows to register 20 fingerprints, if more than 20 fingerprints, the system will log out. If new fingerprints are required, remove all fingerprints first.
* Any finger can be unlocked before registration, ensure fingerprint registration before use.
* Make sure the lock works well, it's better to add at least 3 different fingerprints to register.
Step 3: Delete all fingerprints
- Press the reset (reset) button for 4 seconds, four beeps, then delete all fingerprints.
Note: * To ensure the lock is secure, all fingerprints should be removed before using
Step 4: Lock and unlock
* Automatic mode
- Place any registered finger on the reader then "#" Light turns green with two beeps, unlock.
- Push door closed and automatic door lock
* Manual mode
- Push the door closed and press "#, the latch pops out and closes the door."
- Place any registered finger on the reader with 2 beeps, unlock the door and pull the door open.