Robot vacuum M1600
Products are designed by US firm 5ASYSTEMS and installed for production in China.
Owning a luxurious design, large battery capacity, high working efficiency, eliminating dirt from every corner. Robot vacuum M1600 - one of the most popular household cleaning robots in the US.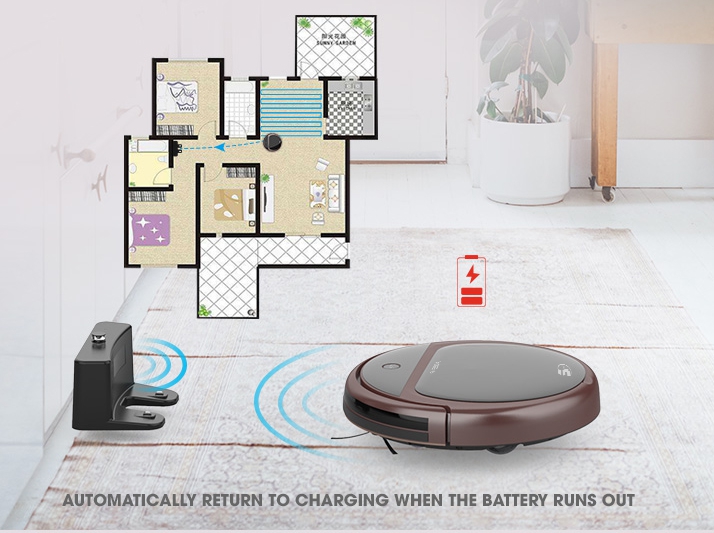 Product information:
Exceptional Features:
Allows users to control by voice (with Google Assistant or Alexa), by Remote or remotely via APP 5ASYSTEMS wherever
Software interface 5ASYSTEMS uses Vietnamese friendly, easy to use.
3-in-1 smart cleaning combination: sweep, vacuum and mop
Plan your way, create home maps and navigate the move very quickly, effectively with high coverage, without scanning.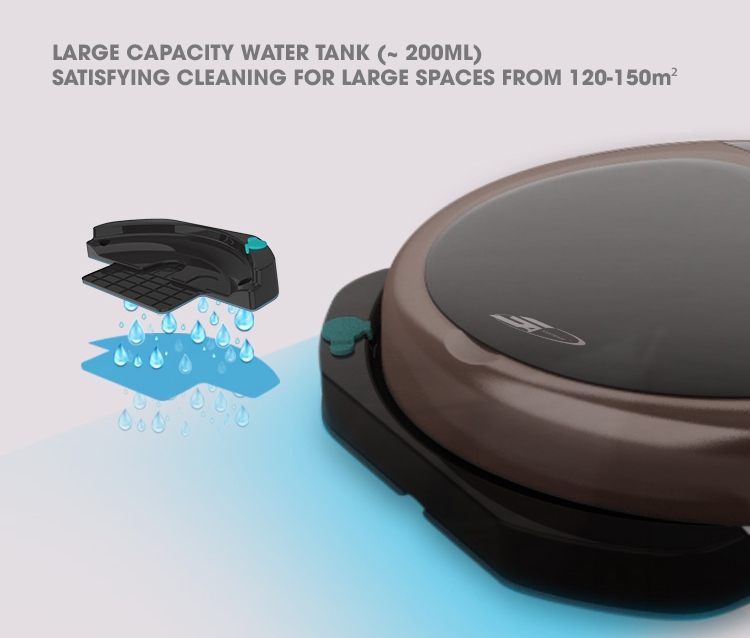 Multiple cleaning modes: Spiral, Auto clean, Random clean, Zigzag cleaning, automatic wipe mode, bow path mode ...
The main brush controls the bottom centre + the two side anti-winding brushes.
Strong power, large loss force, can absorb all kinds of particles, fine dust, hair, and tiny crumbs
Scrubbing speed up to 480 times per minute - deep cleaning
The machine automatically identifies the angled areas, the wall sensor, creates a restricted area when operating, prevents falls, and collisions.
Electronic + mechanical board collision avoidance system (omnidirectional, no dead-end).
The electronically controlled water tank, which intelligently controls the output of water, perfectly solves the problem of water storage during cleaning and charging.
The M1600 robot allows users to manage, monitor, schedule or schedule cleaning remotely.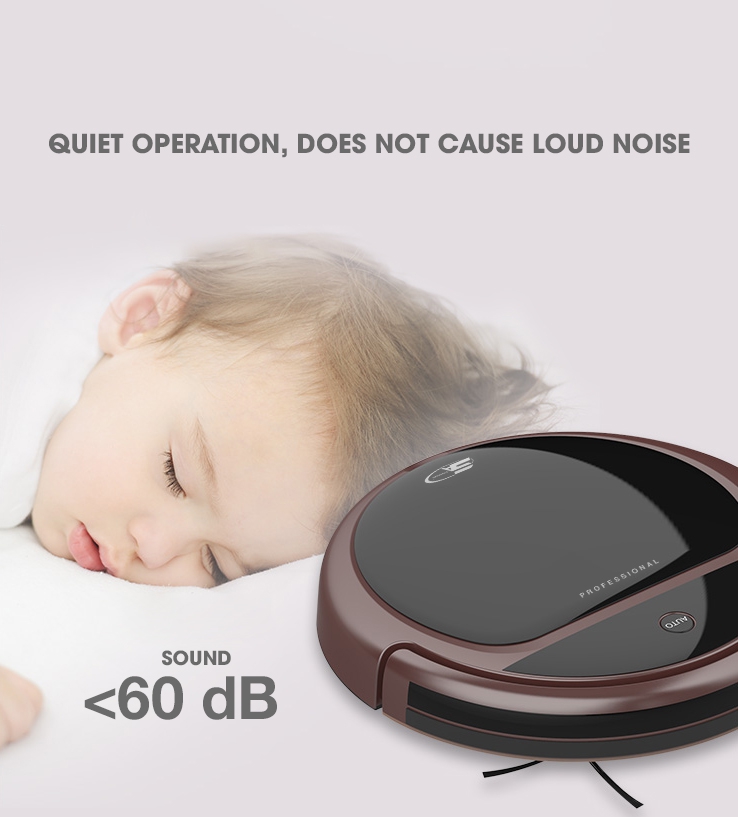 Many cleaning modes are suitable for different types of floors
Intelligent voice prompt system (operating manual prompt, error reminder).
Safe automatic charging system (when the power is below 20%, the sweeper robot will automatically return to the charging dock to charge)
Design:
M1600 home cleaning robot owns a super slim, super impressive design (only 7.6cm). This makes the M1600 easily wriggle around every corner of the house, including under the bed, under the closet, under the table.
Smart, detachable design for simple cleaning.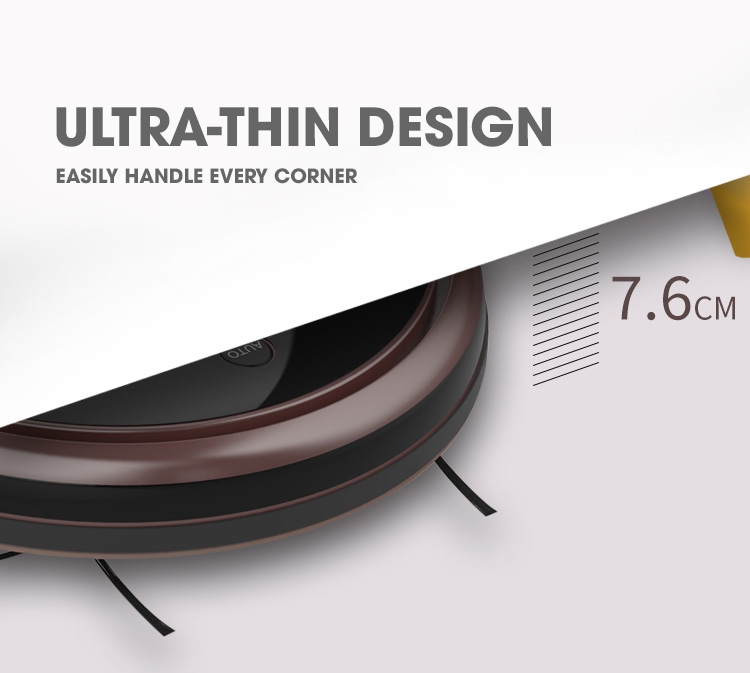 Technical parameters:
Size: 300x300x76mm
Suction force: 800 - 1000PA
Works well at ambient temperatures: from -5 degrees C ~ 40 degrees C
Battery capacity: 4400MAh - Battery use up to ~ 90 minutes.
Extremely low noise, less than 60dB.
Large dust box: 0.45 liters
Water tank ~ 200ml
Voltage: 14.8V
Rated power: 28W
Input voltage: 100- 240V
Output voltage: 19V
Converter output current: 0.5A
A package of M1600 smart home cleaning robot is packed, including A M1600 mop robot, an instruction manual, suction slot, charging cable, charging dock, 1 remote, 1 multi-purpose cleaning cloth, 2 spare brooms room.
Some notes when using the product:
Operate the Robot vacuum M1600 under the instruction manual, it is recommended to use only Indoor Robot, avoid using in the following cases to ensure safety:
1. Do not let the robot operate in the infant's bedroom
2. Do not use M1600 outdoors, in a commercial centre or an industrial area
3. Environment with a high temperature, near an ignition source, or too cold
4. Ambient temperature too hot (over 40 degrees) or too cold (below -5 degrees C)
5. Do not allow the Robot to operate near areas prone to explosion or explosion, such as stoves, gas leaks or dry extinguishers
6. Make sure M1600 is turned off before lifting
7. Hair, clothing, fingers and other parts of the body are not allowed while the device is operating
8. Keep the product out of reach of children when not in use
9. M1600 should be stored in a dry place away from direct sunlight to increase product life and durability.
10. Regularly clean the side brush, the M1600 vacuum cleaner robot trash can prevent bacteria.
11. When there is no need to use the product, separate the M1600 from the charging dock, turn off the device and remove the battery. Observe relevant laws and regulations for the disposal of battery products, waste, etc.
12. Before cleaning the device or the product accessories, unplug the charger from the power source and turn off the device.
13. After a long period of inactivity, the M1600 needs to be reactivated.