Fingerprint Cabinet Lock 5A F200
5A F200 Fingerprint Cabinet Lock from 5A Systems is currently a very welcome security device in the lock market, not only with its modern design, elegant color, many smart unlock functions but also a great way to protect your baby from unexpected dangers and dangers.
Specification of Fingerprint Cabinet Lock 5A F200
* Access control: fingerprint – password – USB Key.
1. No more worries about losing keys, missing keys, fingers becoming smart keys
2. American advanced biometric technology, super-fast, super-sensitive detection speed, one-touch unlock, 100% accuracy rate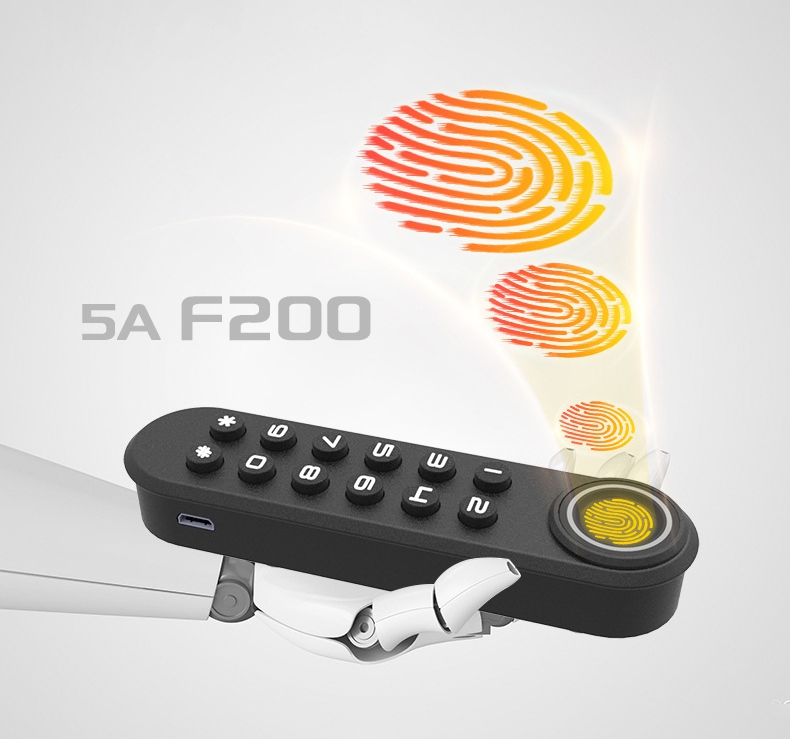 3. Add up to 20 fingerprints
4. Programming 1-10 digit passwords, virtual encryption mode – anti-code detection.
5. Motorized automatic mechanism
6. Large indicator light with visual cues
7. Widely used in drawers, cabinets, wardrobes, etc.
8. Open and close continuously more than 1000 times
9. Super durable lithium battery, battery life up to 1 year, USB charging port connection.
** Outstanding advantages:
– Super simple installation, suitable for all kinds of materials of drawers and cabinets.
– Simple installation without drilling holes, easy to change locks, does not affect the aesthetics of interior equipment.
– The outer shell uses UV-resistant materials to resist ageing and ensure the appearance will not fade after a long period of use.
– Lock blade is chrome plated, anti-corrosion, anti-wear, flexible and compact.
** Low battery warning: Six beeps after opening indicate low battery, please replace batteries immediately. If the battery does not open the door, enter an external power source using the USB port to Unlock.
Smart Anti-Theft Fingerprint Cabinet Lock 5AF200 is not only trusted by households but also becomes a protection item for property, customers' belongings, furniture, and important documents in the commercial centre, spa rooms, GYM rooms, shops, public services, swimming pools, amusement parks, resorts, libraries …
User manual
I. Select the Operation Mode
– Press the reset button for 4 seconds, four beeps, then hold two beeps, release
** Note: Mode has changed, all fingerprints are deleted and passwords remain unchanged.
* Auto mode: Latch lasts for 4 seconds after opening
* Manual mode: The latch will not open until "#" is pressed
* Auto mode and manual mode change respectively, the automatic mode in a factory setting
II. New fingerprint registration
Press the (reset) button to reset and then release, 1 beep → Place your finger on the reader, 1 beep then remove, the green light turns on; Works the same for the light to turn green with two beeps, the fingerprint is registered.
– If there is a mistake, the indicator is red with three beeps. Retry.
Note:
* Do the same to add more fingerprints. 5A F200 Fingerprint Cabinet Lock allows registration of 20 fingerprints, if more than 20 fingerprints, the system will log out. If new fingerprints are required, remove all fingerprints first.
* Any finger can be unlocked before registration, ensure fingerprint registration before use.
* Make sure the lock works well, it's better to add at least 3 different fingerprints to register.
III. Delete all fingerprints on Fingerprint Cabinet Lock 5A F200
– Press the reset (reset) button for 4 seconds, four beeps, then delete all fingerprints.
Note: *To ensure the lock is secure, all fingerprints should be removed before using
IV. Change Password
– Press the reset button and then release it, 1 beep,
– Enter any combination of 1-10 digits and press "#"
* Note: Two beeps, the password has changed.
* Lock with password, default code: 1-2-3-4
* Password of Fingerprint Cabinet Lock 5A F200 will not be changed in different operating modes
V. Lock and unlock Fingerprint Cabinet Lock 5A F200
* Automatic mode of Fingerprint Cabinet Lock 5A F200
– Place any registered finger on the reader or enter a valid password then "#" The light turns green with two beeps, unlock.
– Close push door and automatic door lock
* Manual mode
– Close the door and press "#", the latch pops out and closes the door.
– Place any registered finger on the reader or enter a valid password with 2 beeps, unlock the door and then pull the door open.
Packaging: 1 dedicated high-end anti-theft mini cryptographic lock for Fingerprint Cabinet Lock 5A F200 & 1 User's manual.
About 5A SYSTEM:
5A Systems LLC co., ltd is one of the leading units in the US specializing in researching, manufacturing and providing the most modern solutions for a smart home such as security camera systems, fingerprint door locks, hotel lock, smart home equipment, solar light.
Established in 2014, all products of 5A Systems are always appreciated for their quality, sophisticated design, luxurious design, and beautiful colour over time with the vision to become the most prestigious company providing smart technology equipment in Southeast Asia
5A systems always put the trust and sustainable happiness of customers first with the mission of bringing customers to the world of cutting edge technology by a team of pioneering, talented and experienced engineers with in-depth knowledge of the technology industry as well as applying technology in the most modern and convenient way
Putting the mind first, being trained continuously & updated in knowledge in the era of technology no. 4.0. well controlling product quality and constantly improving features, expanding smart home ecosystem.
Production line of PCBA technology according to strict standards, quality product assembly process in closed room conditions, clean bacteria. 5A Systems llc owns the international certificates of CE and RoHS …
System of 1000 distribution agents, representative offices & millions of retail stores around the world, ready to consult, install and guarantee genuine anywhere in the world